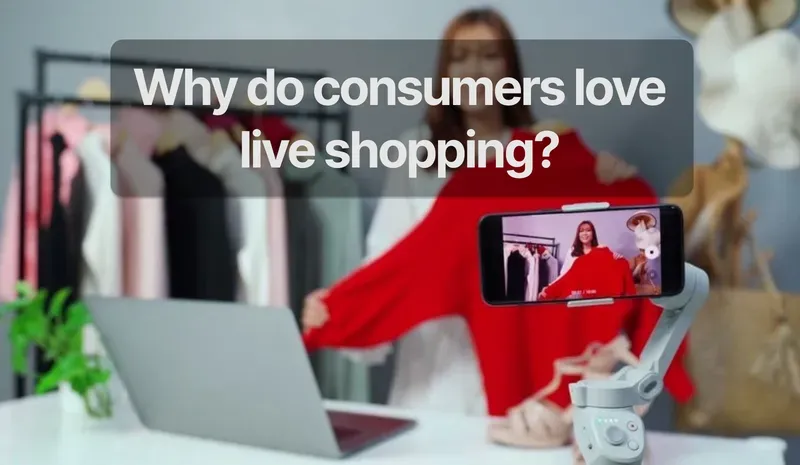 Why Do Consumers Love Live Shopping?
Abhishek Sebin · Mon Dec 19 2022 · 4 min read
Humans, in general, have always been visually fascinated by a multitude of things and it could either be creative or aesthetic!To speak of being visually appeased, ever since the dawn of television, computers, and subsequently smartphones, we haven't been able to get our eyes off the screens.This has, since then, become a game-changer in the business sphere and we're referring to eCommerce. The growth of the eCommerce industry is quite unprecedented. It's now come to be known as the best way for every industry/business to engage and connect with its target demographic to further boost sales.Now, we have Live Commerce taking over, but what is it?It's an expression/term that you use to describe eCommerce paired with live streaming. Live Commerce is now placing itself as the best sales channel.In fact, Live Commerce managed to turn into one of the most prominent sales channels in all of China and it took less than 5 years. Businesses that hopped on to this bandwagon early on have witnessed quite the success.When done the right way, live commerce offers viewers the option of buying products without directing them to another site.Instagram live shopping and Facebook live shopping are great examples too but nothing like running live commerce on your own channels.Live streaming is expected to account for nearly 20% - 30% of all eCommerce sales in the near future. Even with this prediction on the line, it is quite hard to discern how live streaming will grow.The Evolution of The Retail Industry====================================The transformation of the retail industry over the years is worth taking a look at. Gone are the days when a person could just walk into a store and purchase products. Most people, now, prefer shopping online and every business has been adapting to ever-evolving consumer needs.The Covid-19 pandemic fast-tracked this entire process and now eCommerce by itself is not enough. To garner more attention, brands have started to merge live streaming and live events with eCommerce. If you're a brand, then seeking and trying out new avenues for customer engagement is something you put on top of your priority list.An argument can be made stating, eCommerce does not offer customers a personalised in-store shopping experience that a traditional store may offer. Furthermore, in a physical store, people have the option of physically checking the product before making a purchase.Combining live streaming and eCommerce is one way of offering a personalised experience, although it may not equate to the actual experience of buying products from a store, it definitely is a step up from eCommerce by itself.How Can Live Shopping Benefit Your Business?------------------------------------------------Similar to how eCommerce took over the business sphere and offered a ton of benefits to businesses and brands of all kinds, live commerce is expected to outdo that!But how?There are quite a few benefits of live commerce, namely* Increasing Brand Appeal * Boost Conversion Rates * Increase the FOMO Effect * Increase Engagement Let's take a look at them,### Increasing Brand AwarenessLive Commerce can help your brand stand out from the rest, especially when executed the right way, it can help you gain a lot of traffic and further help your brand identity increase within your existing demographic.Live shopping is a one-of-a-kind trendy experience and youngsters are always looking for the same, this can help you gain a lot of new viewers/customers as well.People are already used to QVC shopping and adding QVC style live shopping to your own channels is an incredibly amazing move.### Increasing Conversion RatesIn order to increase conversion, a business must first boost its engagement with its audience, and live commerce does exactly that.Its vibrant and immersive nature retains the attention of its viewers for a prolonged period of time. Furthermore, the use of limited coupons only for live events aids in creating a fun yet intense sense of urgency.To top it off, the brands that implemented live commerce are currently reporting a boost whopping 30% increase in their sales.### Increase FOMO EffectFOMO, the abbreviation for "Fear Of Missing Out", a fear of missing out on exciting events, can be used to a brand's advantage.Each and every live event has a time limit and brands/influencers who host it may only be selling a handful of products for a discounted price.Additionally, anyone who is skeptical of online shopping will witness other people buy products online and in real time, this could further prompt skeptics to start live online shopping.### Increase Audience EngagementIn simple words, the effective use and implementation of live commerce can skyrocket your engagement rates. ALDO, a Canadian retail brand, hosted a live event in 2021 and had a 308% increase in audience engagement. Similarly, almost every brand that tried live commerce experienced a boost in their engagement.Live Commerce In China - A Small Summary----------------------------------------As mentioned earlier, live commerce in China is well on its way to cementing its place as the best and most rapidly growing channel. China currently predicts that the live commerce market in their country will grow into a $770.70 billion market by next year (2023).Online shopping in China, just like the rest of the world, had a prominent place in their market even before the COVID-19 pandemic hit but the introduction of live commerce just stepped up their entire game within a short span of 5 years. Even though live commerce is a market filled with the younger generation, it has been attracting viewers across all ages. As of March 2022, China has over 264 million people using live commerce.Let's take Taobao as an example, an online shopping platform, that experienced huge success and now has a market share of 35%, putting them on top! Following their success, brands and businesses around the world started experimenting with live commerce with the help of content creators/influencers.For instance, Tommy Hilfiger tried live commerce in Northern America and Europe and they were left flabbergasted by the results, in one particular live event they sold 1300 hoodies and garnered over 10 million viewers in less than 3 minutes.Consumers are now shifting to live commerce as well, a live event has the element of personal touch and it offers real-time brand-consumer engagement which they enjoy from the comfort of their homes.Live streaming is now well on its way to earning its place as the best channel and with the demand for live commerce rising, we can expect a lot from this!Live Shopping Commerce----------------------Live commerce is still a relatively young channel with quite a few hidden avenues yet to be explored. But to start out, implementing eCommerce practices is one of the best ways to get a good grip on it, and while starting out, it is advisable that you try a few options that are subjected to minimal risk and cost.For example, rather than live streaming an event on your brand's website you should stream it on social media platforms. For starters, people would rather watch an online event on social media unless it has the element of "exclusive" to it, only then will they consider tuning into the brand's website. Social media platforms also offer quite a few features for you to enhance the live streaming experience and features to make sales as well (Instagram Live Shopping), this will help you understand the world of live commerce better as well.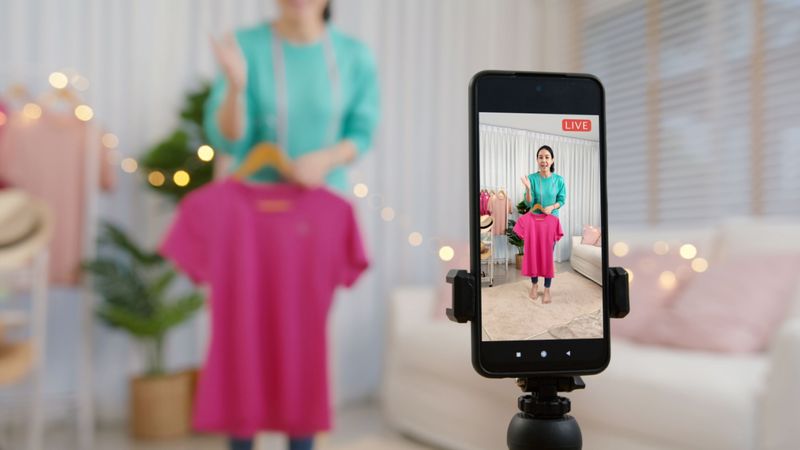 Different Types Of Live Commerce--------------------------------There are a number of live commerce formats that you can choose from:### Influencer StreamingThis seems to be one of the most popular formats for live commerce. Influencers, typically, have a great following and they use their influence to promote and sell products. The products could either be their own or they could be hired by a brand to help them promote a product. But bear in mind, influencer streaming works well with the younger crowd and not so much with the older ones.### Online MarketplaceOnline marketplaces have come to become a mainstay in the business sphere. It is can help companies sell their products without having physical display stores and consumers can view/review/buy products from the comfort of their houses. With the addition of real-time interaction, it helps in the recreation of an experience close to in-store shopping.### TutorialsA great live commerce format that best suits the fashion and cosmetic industry. Fashion brands host live events showcasing their clothing line and they further offer their viewers advice on different ways to style and experiment with clothes. Similarly, cosmetic brands have live events that showcase their products and they further talk about which product can benefit whom the best.### Exclusive Live EventsWe know, all of the above are also live events but here we are talking about exclusive events. For instance, product launches, brand anniversaries, Black Friday, and many more. If you're streaming a product launch, then you can have people from all over the world viewing it and not just store visitors.To further add to it, the element of exclusive live events build a great sense of anticipation and can help you garner more audience.Live Shopping - What Does The Future Behold?--------------------------------------------As of now, there is no way to discern the future of live commerce in an absolute manner. But the observations made since its inception will give us a good idea of what to expect in the future.One thing you can expect is the rise of nano-influencers and micro-influencers!But what do we mean by this?Big corporations and brands seldom understand the art of hosting live events and although they may have a dedicated audience following their brand, they are not be able to engage or generate interest in the most optimal manner.But on the other hand, using influencers can change the game. Influencers, without a doubt, make excellent hosts and have the ability to attract the attention of a lot more viewers. The engagement rates between influencers and brands are quite huge with influencers having 10 times more engagement.Innovative live commerce formats are on the way to revolutionize pretty much everything. AR (Augmented Reality) and VR (Virtual Reality) are immersive technologies that are capable of bringing an in-store shopping experience to your fingertips. They help in making a virtual experience as real as possible!Live commerce, although is being implemented in the B2C industry but is also something B2B industries will implement in the near future. As technology makes its way through every nook and cranny of the world, there is no doubt that live commerce will stamp itself as one of the most prominent channels in the world. Imagine a world where you can visit and explore a store without leaving your house, this is the future of business.
📹 Add Video Commerce to your website 🚀🚀
• Instasell helps you power your e-commerce shopping experience with the power of Smart Video Shopping.


• Use Shoppable Videos and Live Shopping to drive 25-30% more revenue from your website.
Transform your brand with Video commerce