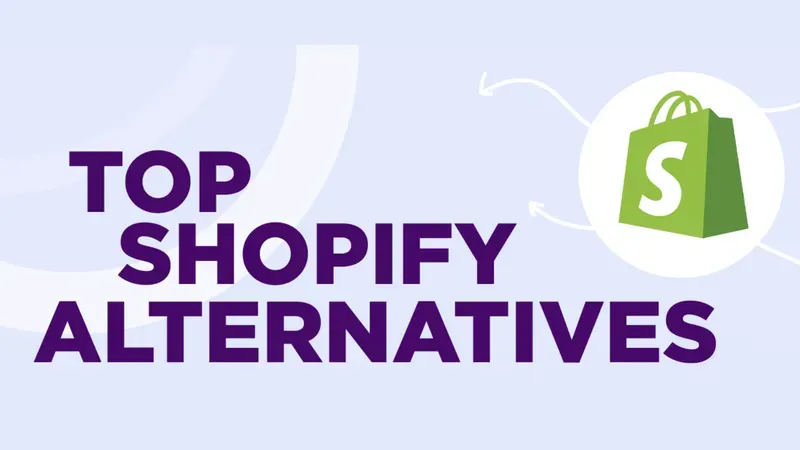 Top Shopify Alternatives In 2022
Abhishek Sebin · Sun Jul 17 2022 · 5 min read
Top Shopify Alternatives In 2022
Boosting the success of hundreds of thousands of businesses all over the world, Shopify has paved a way for all of them to be the best they can be.
But that does not mean there aren't other eCommerce software that has come up over the period of time. As of today, you have a multitude of options to choose from and each one of the alternative eCommerce software offers the same or more at better prices, of course. 
If you're on our page right now, then we know that you are looking to learn more about Shopify or alternatives to Shopify to make an informed decision and we'll help you out with the same. 
But first…
Shopify - What Is It?
In simple words, it is an eCommerce software that will help you build and operate online stores. It will help build your website, manage catalogs and products, help with delivery, and much more. 
Both small start-ups and big companies can use this software. Furthermore, this being a SaaS solution, no one apart from Shopify is responsible for the smooth functioning of the software. 
When it comes to Shopify, there are two subscription plans and although there isn't any free plan, they have something called Shopify Lite that enables you to include a "purchase button", this is only if you have an existing website of your own. 
The other two plans are:
Shopify - this is primarily for small start-ups and comes with 3 different pricing plans (Basic, Shopify, & Advanced).
Shopify Plus - This plan is mainly for large corporations and is custom pricing with a minimum of $2000 each month. 
Should You Be Looking For Shopify Alternatives?
Yes, you should be. There are of course a lot of other options available that offer the same features and solve all your e-commerce problems. 
Here are a few reasons why you should look for an alternative:
More SEO Control
SEO optimization is a significant component of the marketing tools provided by an eCommerce platform. Although Shopify handles basic SEO duties well, you may want greater managerial power over your site's SEO, especially if you rely significantly on organic traffic.
For those who don't know, Shopify does not give you full SEO control. It will not let anyone edit the robot.txt files (with this file you can give instructions to Google on indexing your website so only particular webpages appear during search results)
This may seem like an insignificant part of SEO, but as your organization grows you will need this feature. 
Better Payment Gateways
The payment gateway offered by Shopify is preferred by a lot of business owners for multiple reasons. For starters, if you don't use their proprietary payment gateway, you will be charged 2% of every sale you make. 
Additionally, you will not be given access to several features if you are not using their payment gateway. This can hinder a lot of things for you as a business owner and it doesn't stop there, if you sell products like vapes and other similar high-risk products, Shopify will not allow it on their platform. 
Limited Catalog Space
This means, if you're looking to include a lot more options in your products such as color, sizes, or any other types of variant of the same product, Shopify may not be the answer for this. 
With Shopify, you get only hundred SKUs for every product with only 3 options for every product. 
On the other hand, there are multiple eCommerce platforms that offer unlimited product cataloging options for including multiple variants for every product. 
Alternatives For Shopify 
Now we get to the good part, now that you know there are other great alternatives for Shopify let's take a good look at them. 
Also, here are a few things you should look for in an eCommerce software
You should have the option of customization
Should have multiple payment options without being charged extra for it
Should have great cataloging options. 
Here are the best Shopify Alternatives you should keep an eye out for:
1. Instasell
A social media-oriented eCommerce solution, founded in 2020, Instasell is another great eCommerce platform that has been making quite the name. It is quite an unique platform as compared to the rest as it will help you sell on Instagram, Tiktok and Facebook, great platforms to find customers on. 
Its uniqueness is what sets it apart from the rest. It offers great features for tracking and managing orders and much more. Furthermore, they also offer a free plan with an Instasell domain. 
Pros
It is very easy to build a website on this platform, you don't need any technical knowledge
Has UPI integration with multiple payment gateways as well, you can start receiving payments from the very first minute. 
Easy-to-use interface.
All the paid Shopify apps included in the paid plan, don't have to pay extra for apps like upsell/cross sell, currency converter, reviews etc.
Can convert any Instagram page into an online store in minutes.
Provides you with multiple themes for websites and templates as well.
Simple mobile app to manage your entire business with free hosting and SSL.
You get unlimited storage space and can handle millions of users at a time.
It cost's only $19/month and is reasonably priced.
Cons
You will be charged 3% per sale in the free plan and 1.5% in the $10 plan.
2. BigCommerce 
An eCommerce platform that people know about and is a great option for brands of every size. This can help you scale up your business in a very efficient fashion. 
They offer great features for marketing and help you increase conversion rates. You also save a lot of money as BigCommerce has a plethora of inbuilt features. 
Pros 
It supports more than 50 types of payment gateways with no extra charge
Offers advanced features (SEO) 
Offers great 24/7 customer service
You don't require any knowledge of coding while using features like page builder
Every plan comes with its own unique set of features 
Cons
They have only 3 free themes to use. 
It may take a little time to understand every features 
3. Magento
This eCommerce solution was built and developed on an open source platform and was launched in 2007. As of today, Magento has been absorbed by Adobe (in 2018).
This platform is a great option for medium-sized businesses and it offers a lot of flexibility and scalability options. Although it is free, the enterprise option can cost you a lot of money (anywhere between $15,000 - $50,000 per year)
This is a great platform offers two options:
Magento Commerce - this is for big enterprises
Magento Open Source - for start-ups and small businesses
Pros
Offers great customization options 
You have access to multiple 3rd party applications
It has more than 260,000 developers working to make it better constantly 
Has wide selection of payment gateways 
Offers responsive designs
Cons
You need to have a developer or a hosting service to use it
Can cost quite a bit to build 
You are responsible of the installation and management of new software updates
4. WIX
WIX has established its presence since 2006 and it renders the process of building an eCommerce website simple. It has affordable pricing options and offers an easy-to-use interface. This can be used by beginners as well, you don't have to be a developer to use this platform. 
Has several great features like the "drag and drop" feature.
Pros
Has unlimited product cataloging options 
The drag and drop option makes it simple to build a website
Their business plans provide the business with a free domain upto an year. 
It also has free plans
Cons
You will be given only 50gb of space unless you have an enterprise plan
You cannot contact customer support via chat. You have to either call or raise a ticket. 
They also have website options which aren't for eCommerce, this can make it a slight bit confusing
Good for a beginner as they are not specially for eCommerce and lack a lot of features required by e-commerce businesses.
5. PinnacleCart
A marketing-oriented platform that was founded in 2003 and ideal for small to medium sized businesses. 
It has a ton of inbuilt features, it is user-friendly, and the best part is that it supports several currencies and languages. It's great for a starting out due to the availability of robust features.
Pros
You can choose PinnacleCart to host your website or you can choose a hosting agency of your choice 
Has several SEO-oriented features 
Each plan comes with a ton of features and options
Cons 
Has limited themes
You have to manage the updates
Can burn holes in your pocket as it is expensive for the features it offers
Does not have POS system in place
Not used by many merchants and is using legacy systems.
6. WooCommerce 
Another unique plugin, WooCommerce is a plugin that will help you build an online store on wordpress. 
It has extensive customization offers and is extremely versatile. If you've used wordpress before, then this becomes a cakewalk. 
Pros 
The plugin is free
The process of integration is simple and easy
Has tons of customization options
You gain access to several free extension and paid ones as well
Cons
Only the plugin is free, you need to have a wordpress website beforehand
You're responsible for every aspect of the site, like obtaining an SSL certificate
You need a little knowledge of HTML or CSS 
You need to have extensive knowledge of SEO as everything is self serve.
It's difficult to scale into a big brand here, has reliability issues
These are some great Shopify competitors that you should keep an eye out for.
📹 Add Video Commerce to your website 🚀🚀
• Instasell helps you power your e-commerce shopping experience with the power of Smart Video Shopping.


• Use Shoppable Videos and Live Shopping to drive 25-30% more revenue from your website.
Transform your brand with Video commerce