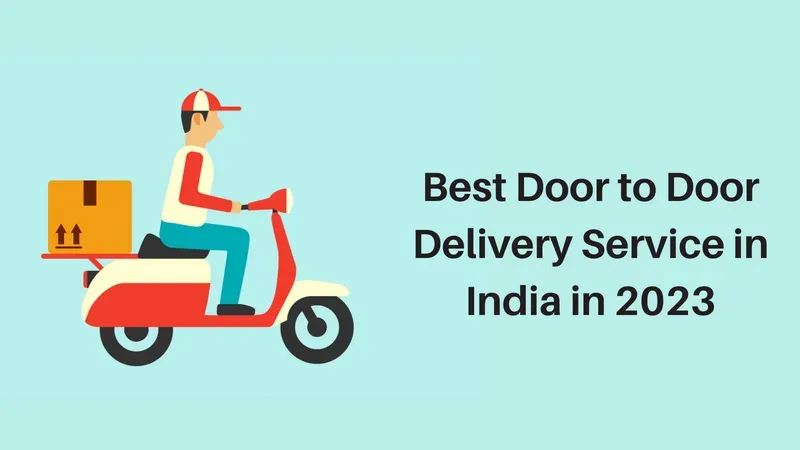 Best Door to Door Delivery Service in India in 2022
Abhishek Sebin · Thu Mar 10 2022 · 5 min read
Selling online and looking for the best delivery service in India?
If you recently started setting up your store or started getting orders online and are looking to learn more about shipping orders, you've come to the right place!
The most integral part of running a successful online e-commerce business is partnering with the right courier companies as it directly impacts a lot of things for your business.
Let's understand what are the factors that directly influence your overall business
1. Speed of delivery
Choosing the right courier partner that can deliver your products to customers within the shortest transit time possible anywhere in India (2-3 working days) is very important to ensure less RTO, high customer delight, better word of mouth marketing for your brand & repeat orders.
2. Cost of delivery
It's also important to choose the right courier company wrt to the product pricing and your customer segment. There are many variables to consider while choosing a courier partner
a. If you want to reduce your shipping costs you can choose courier companies that primarily transport via road and take 5-7 days to deliver and save costs here but this also can result in higher RTOs for Cash on delivery orders. This is primarily done if your order value is less than Rs. 1000 and you have less margins.
b. If you want to give an amazing experience to your customer, go for courier companies that transport via Air and can deliver in 1-2 working days. This will increase your shipping costs but also help you in reducing RTOs and also in establishing a brand with your customer who can end up becoming a repeat customer for you.
Best Delivery Service in India
We'll compare some of the courier companies below based on their strengths and weaknesses.
FedEX
The average shipping rate for Prepaid orders in India is Rs. 56 and for COD it's around Rs. 113.
Pros:
FedEX is one the best shipping companies in India for E-commerce, they are probably the fastest and also have the best customer support and minimal weight discrepancies. They are a very reliable courier company as they can handle a diverse range of products including fragile items, heavy weight items, high value products etc. FedEx is also a really good partner to have if you are shipping both domestically and internationally from India
Cons:
They are expensive and cost generally between Rs 110-120 for Cash on delivery parcels below 500 grams in weight. They also don't cover some pincodes in the North Eastern states of India.
Delhivery
The average shipping rate for Prepaid orders in India is Rs. 60 and for COD it's around Rs. 103.
Pros:
Delhivery is widely used by many small businesses in India and are a really good shipping partner to work with. They provide reasonable pricing and also cover maximum pincodes in India. They have a very good service even in the North eastern states of India. In a short span of time homegrown logistics firm Delhivery has risen to become the go to shipping partner for majority of merchants in India.
Cons:
Delhivery delivery times may vary from 4-8 days based on pincodes in India as they primarily transport goods via road. They generally have a really post shipping experience but sometimes may
Xpressbees
The average shipping rate for Prepaid orders in India is Rs. 55 and for COD it's around Rs. 96.
Pros:
Xpressbees is one of the most cost effective courier companies out there. They deliver to most pincodes in India and also have a good customer support.
Cons:
There maybe cases were you end up getting charged for weight discrepancies and the dispute resolution time isn't good.
Ecom Express:
The average shipping rate for Prepaid orders in India is Rs. 60 and for COD, it's around Rs. 97.
Pros:
Ecom express has a really good and consistent pickup and pricing is reasonable. They also have one of the largest pincode coverage of 27000+ pincodes. They are also used mostly by e-commerce merchants especially the ones selling Jewellery as they offer good security and surveillance as well.
Cons:
They don't cover a lot of pincodes in India and you will have to use another shipping company to fulfill orders as well.
India Post:
The average shipping cost for prepaid orders using speed post is Rs. 50 and to get their COD shipping option, you can upgrade to their Business plan.
Pros:
They are the oldest shipping company in India and cover almost all pincodes in the country. They also are very reliable and also offer international shipping almost all countries and have very reasonable international shipping costs.
Cons:
If you are not on their business plan, you won't get pickup from your location, you'll have to ship from the nearest India post office.
Bluedart
Bluedart was recently acquired by DHL in India and is one of the most popular shipping companies in the world.
Pros:
They are one of the fastest courier companies out there and offer cheap shipping prices. Bluedart also has shipping to 220 countries from India.
Cons:
They are not available on many shipping aggregator platforms and it's a hassle to get started with them.
📹 Add Video Commerce to your website 🚀🚀
• Instasell helps you power your e-commerce shopping experience with the power of Smart Video Shopping.


• Use Shoppable Videos and Live Shopping to drive 25-30% more revenue from your website.
Transform your brand with Video commerce