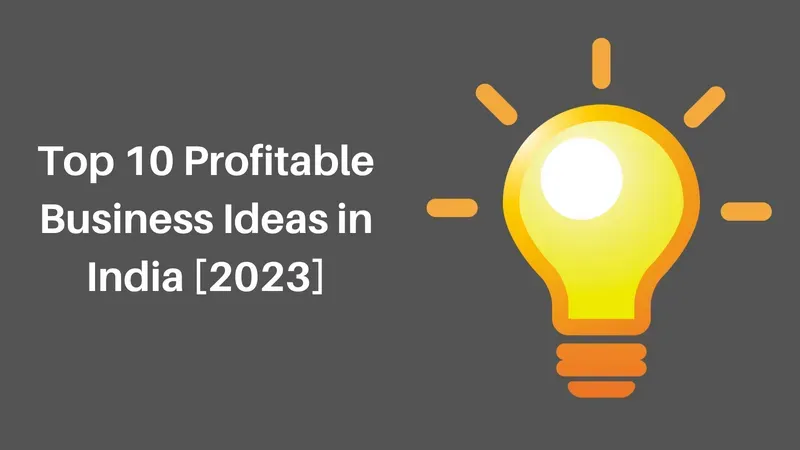 Top 10 Profitable Business Ideas in India [2023]
Venkatragavan Srinivasan · Fri Mar 11 2022 · 6 min read
Ever wondered what's the most profitable business to run in India?
Look no further, we've compiled a list of top businesses you can run in India with low investment -- all updated for 2023.
Clothing & Textiles:
Textiles and Fashion apparel contribute to more than 35% of all online sales on the internet. With more than 90 million online shoppers, India is one of the largest markets for fashion apparel and textiles.
Textiles is one of those few categories that come with the magic combo for business success - high net margins + high demand + consumable product.
That's the reason behind the steady rise of fashion DTC brands - Urban Monkey, Bewakoof & Clovia to name a few.

​
Fashion Accessories:
Fashion accessories like sunglasses, shoes, & watches are also a high-demand category. This is also a market that's growing rapidly in India, with the country's fashion apparel market estimated to be worth ₹4.4 Lakh Crore in 2022. (Source: McKinsey)
This is a traditional retail industry that operates mostly out of physical stores. But today, there are more than 1 Lakh online fashion brands operating in India owing to the low investment cost and potential for growth.
Due to the crowded nature of this market, starting an online fashion apparel business means having to spend more on marketing, ads and promotions.
A few examples: IDEE famewear, Neeman & Flatheads.
​​Cosmetics:
The adoption of digital payments has rapidly increased the consumption of cosmetics in tier-2 and tier-3 cities in India. Previously restricted to urban markets, fast digital payments have enabled hundreds of businesses to thrive in this sector.
There are many successful cosmetics brands in India, especially ones that cater to the under-30 audience. Starting a cosmetics business is easy, you can either take distributorship for an established brand and sell online or make your own homemade cosmetic products.
But keep in mind that any homemade cosmetic product should be approved by CDSCO (Central Drugs Standard Control Organization), get lab-tested before it's eligible to be sold online or offline.
Some best-selling products in this category include - Moisturizers, Hair Dyes, Perfumes & Cologne, and Nail-care products.
Catering Services:
Food catering is yet another highly profitable business to run in India. Depending on the capital you have in hand, a successful catering business can be operated with an investment as low as ₹2 Lakhs.
While this is a very profitable business, it is also very operation-heavy. There are many moving parts to a catering business like procurement, workforce management, and compliance requirements.
In India, to run a catering business you are required to obtain an FSSAI Food Business License, along with a GST registration.
Cloud Kitchen:
A cloud kitchen is a commercial kitchen that runs exclusively for take-away or delivery orders. So unlike traditional restaurants, Cloud Kitchens can be operated from anywhere (yes, even your home), there's no dine-in and restaurant management involved.
With the rise of food delivery apps like Swiggy, Zomato, and Dunzo, Cloud Kitchens have become a quick and profitable way to run an F&B business. The number of cloud kitchens is gradually growing in multiple cities in India, including tier-2 and tier-3 cities.
A cloud kitchen would require a minimum capital of ₹3 Lakhs, an FSSAI license, and a GST number.
The most successful cloud kitchen brands are ones that invest in not just the quality and taste, but also in marketing, branding, and packaging design.
Some famous cloud kitchen brands you'd have heard of: Behrouz Biriyani, Faasos & EatFit.
Wedding Planning:
Considering a more social, seasonal business? You should definitely look into the Wedding Planning space.
India is the second-largest market for the Wedding Industry (Just behind the US). Annually, Indians collectively spend more than ₹1 Lakh Crore on Weddings.
If you are a people person, loves arranging events and parties, then this is the business for you.
Depending on the nature of your business and services offered, a Wedding Planning business can be started with an investment as low as ₹20,000.
Some famous brands in this space: Ferns N Petals & Wedding Design Company.
Poultry and Animal Husbandry:
Tired of the urban hustle and bustle? Live in a rural environment with ample space and labor availability? Look no further.
Poultry and Animal Husbandry is a ₹6000 Crore+ industry in India - growing at an annual rate of 30%. Poultry and Animal Husbandry farms can be very profitable as they are essential items. Wholesale prices are set by farmer cooperatives and you can expect an 8-10% hike in prices every year.
Apart from land, labor and equipment availability, there are multiple compliance requirements like NOC from Electricity Board, Local Government Bodies, and GST Registration.
Depending on the scale of the business, setting up a poultry farm can cost you initial investment of ₹3-10 Lakhs.
Freelance Web Design:
This is one of the few businesses that truly require no investment apart from a laptop and coding knowledge.
Web developers can make anywhere between ₹30k - ₹3 Lakhs per month designing and developing websites. Many experienced developers make much more, and serve clients across the world.
If you're a beginner and have zero coding knowledge, worry not. There are many free platforms that help you go from a beginner to a professional coder. All you need to get started is a laptop and lots of patience and drive. Want to give this a shot? Try FreeCodeCamp, Codeacademy, and Udemy.
Salons:
Setting up a Salon in a residential or suburban locality is a very lucrative business in India. Although this is an urban-centric business, the potential for growth is massive due to the size of the market and demand for these services.
Indian women collectively spend more than ₹55,000 Crores annually on beauty parlors, massage parlors, and nail salons (Source: FT)
Depending on the availability of capital, you can either enroll as a franchisee for an established chain like Lakme, Looks, or Naturals. This might cost you a minimum of ₹20 Lakhs while setting up an independent parlor would be much cheaper.
Some important requirements for running a salon include trained staff, equipment, and working knowledge.
Restaurants:
Restaurants are a ₹4.7 Cr market in India and have always attracted the most enterprising people across the country. While it is an operationally heavy, low-net margin industry with a lot of moving parts - when done right it can be extremely profitable.
Some of the important factors that decide the success of your restaurant: location, trained staff, cook & profitable unit economics.
Depending on the above factors, starting a restaurant in India might cost a minimum of ₹30k -₹5 lakhs. Restaurants also require you to get registered with a GST number, and a FSSAI food safety license.
📹 Add Video Commerce to your website 🚀🚀
• Instasell helps you power your e-commerce shopping experience with the power of Smart Video Shopping.


• Use Shoppable Videos and Live Shopping to drive 25-30% more revenue from your website.
Transform your brand with Video commerce