Getting Started With Shoppable Videos - Everything You Need To Know
Abhishek Sebin · Tue Mar 14 2023 · 9 min read
Are you tired of creating videos that don't drive sales or engagement? Well, get ready to revolutionize your business with shoppable videos! These amazing videos allow you to showcase your products or services and provide your viewers with an easy way to purchase directly from the video.Shoppable videos are more than just a trend, they're a game-changer for businesses. They offer a seamless shopping experience that can increase brand exposure and drive sales. With shoppable videos, you can connect directly with your consumers and provide them with a hassle-free buying experience.Whether you're an experienced retailer or just starting out, shoppable videos are a topic you won't want to miss. Let's find out how to take your video content to the next level!What is a shoppable video?------------------------------As a seller, you're always on the lookout for innovative ways to showcase your products and increase your sales. That's where shoppable videos come in. Imagine being able to captivate your audience with an entertaining video while also providing them with a seamless way to purchase your products directly from the video itself. With shoppable videos, you can do just that. It's like having your own virtual storefront that's open 24/7, with the added bonus of being able to engage with your potential customers in real time.With a shoppable video, you can embed links to your product pages, making the buying process quick and seamless for your potential customers. Plus, you're providing an enjoyable shopping experience for your audience, which can increase your exposure and ultimately boost your sales.By using shoppable videos, you can increase your sales and engagement while also saving time and effort. Shoppable videos make the process quick and seamless, leaving you with more time to focus on creating great content and building your brand.Shoppable videos are a win-win for everyone involved. They're a fun and innovative way to showcase your products, increase your exposure, and ultimately boost your sales.Benefits of shoppable videos--------------------------------The following are the benefits of shoppable videos.
### Increased engagementShoppable videos allow brands to connect with their audience in a more interactive and engaging way. By embedding links directly into the video, they encourage their audience to take action, leading to higher engagement rates and increased brand awareness.### Seamless shopping experienceWith shoppable videos, the shopping experience is quick and seamless. Consumers can go from browsing to buying in just a few clicks, making it easier for them to purchase the products they love. This convenience helps increase conversions and drive sales.### Better product exposureShoppable videos provide brands with the opportunity to showcase their products in a more impactful way. By demonstrating how products are used and highlighting their key features, brands can increase exposure and create a more compelling reason for consumers to buy.### More data and insightsShoppable videos are a great way to collect valuable data on consumer behavior. With a video commerce platform like Instasell, you can turn this data into actionable insights that can help optimize future marketing campaigns and drive better results. By analyzing which products are resonating with your audience and which ones aren't, you can make informed decisions on what to stock, how to price your products, and how to market to your audience.### Higher conversion ratesShoppable videos have the potential to drive higher conversion rates, as they provide an effortless and enjoyable shopping experience. This can help increase sales and boost the bottom line for brands.### Retarget Customers with EaseShoppable videos provide valuable data on customer behavior, which can be used to retarget customers and increase the chances of a sale. Using this data, you can easily create strategies to retarget customers who have engaged with your shoppable videos by showing them ads for products they've shown an interest in. By tailoring your ads to their specific interests, you'll be more likely to drive higher conversion rates and increase your sales.### Enhance Customer Experience with PersonalizationShoppable videos allow brands to create a more personalized and enjoyable shopping experience for their customers. By showcasing their products in a fun and interactive way, brands can build a better relationship with their audience, improving customer loyalty and increasing the chances of repeat business.Where can you use shoppable videos?---------------------------------------Shoppable videos can be used in a variety of different places to reach and engage with your audience. Here are some of the most common places you can use shoppable videos:### Social media TikTok remains a popular option for shoppable videos, providing a great opportunity to reach a large and engaged audience. You can include a link to your product page in your TikTok bio or add a clickable sticker in your video to take viewers directly to your product page.### E-commerce websitesYou can add shoppable videos directly to your e-commerce website, allowing customers to shop from the comfort of their own homes. This can help improve the customer experience and drive sales.If you're looking to enhance your e-commerce website with shoppable videos, Instasell can help. Our platform not only allows you to add shoppable videos seamlessly, but we also make sure that the integration is optimized for your website's performance. This means that your customers can enjoy a seamless shopping experience without any lag or delay. ### Influencer marketingBy partnering with influencers, you can reach a large and engaged audience through shoppable videos. Influencers can showcase your products in a fun and engaging way, helping to increase brand awareness and drive sales.### Email marketingYou can include shoppable videos in your email marketing campaigns, providing your audience with a seamless shopping experience and increasing the chances of a sale.But there is a catch. Embedding a shoppable video directly into an email can be problematic because many email providers may flag it as spam. Instead, it's recommended to include a compelling thumbnail image of the video that links to the actual video landing page or product page. This approach avoids the risk of the email getting caught in the spam filter.### In-store displaysYou can use shoppable videos in-store to help customers better understand your products and make informed purchasing decisions.The possibilities for using shoppable videos are endless. By using them in different places and adapting them to your audience, you can reach and engage with them in a fun and interactive way, driving sales and exposure for your brand.Best practices for shoppable videos---------------------------------------Here are a few best practices you should consider implementing in your shoppable video strategy.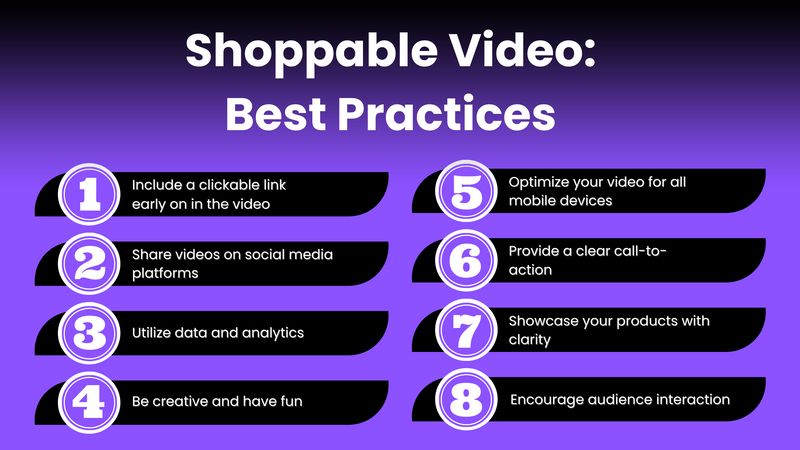 ### 1. Showcase your products with clarityTo make sure your audience is wowed, you want to make your products look their best. Use clear lighting and clever camera angles to really show off your goodies! And, if you really want to get your viewers excited, include demos and close-up shots to give them an up-close-and-personal look at what you have to offer.Talk to them like you're chatting with a friend to keep your audience engaged and connected. Be casual and chatty to build that personal connection that will make them want to buy from you. And, whatever you do, make sure your video is under 150 seconds. People's attention spans are short these days, so you need to be strategic and focused on showing off your products and their benefits. ### 2. Encourage audience interactionTo showcase your amazing products and drive sales with shoppable videos, you need the secret ingredient - Audience interaction!No one wants to sit through a boring sales pitch, so let's spice things up. Here are some tips to help you make your shoppable videos engaging and interactive:* Make it interactive - Add fun quizzes, lively polls, and other interactive elements to your shoppable videos to keep your audience interested.* Keep it chill - We want to create an enjoyable conversation between you and your audience. So, keep things casual and relaxed, with a light and friendly tone.* Show, don't tell - Put on a product demonstration or live unboxing to show off your products in action. This builds trust and sparks interest in your brand.* Spread the word - Encourage your audience to share your shoppable videos with their friends and followers on social media. This helps spread the word about your brand and products.* Incentivize - Offer discounts or other incentives to those who interact with your shoppable videos. This creates excitement, boosts participation, and drives sales.Remember, shoppable videos are meant to be a fun and engaging experience for your audience. So keep things light and casual, and watch your brand shine!### 3. Include a clickable link early on in the videoMake your videos as shoppable as your favorite mall by adding clickable links early on!Think of it as the secret entrance to a treasure hunt. Your clickable link should be easy to spot and exciting enough to make your viewers want to click on it. Why not highlight it with some cool animations or special effects?Plus, making sure the link works properly is key to avoiding any shopping mishaps. Don't forget to test it out before showing it off to the world!But here's the best part: by offering exclusive discounts or content, you can turn your viewers into loyal shoppers. Just make sure to keep the focus on the product's benefits and let the link do the rest. And with this seamless shopping experience, your customers will thank you for making their lives that much easier!### 4. Share videos on social media platformsThe possibilities are endless when it comes to showing off your products to the world. Instagram, TikTok, and Facebook are just a few of the hotspots to strut your stuff.Instagram is perfect for building your brand and driving traffic to your website. TikTok is the ultimate platform to create viral content and engage with a younger audience. Facebook is your go-to for reaching a wide range of customers and promoting your products to all sorts of folks.Whether you're looking to build your brand, target a younger crowd, or spread the love to a wider audience, there's a platform for you. Just remember to keep your videos short, sweet, and visually appealing. Make it easy for viewers to follow along and don't forget to include clear call-to-action buttons. Your shoppable videos are the key to unlocking major sales and growing your business.### 5. Provide a clear call-to-actionYou want to make sure your shoppable videos have a killer call-to-action (CTA) that grabs their attention and motivates them to take action. A CTA is what tells your viewers what to do next - whether it's clicking on a link or buying your product.Here are some tips to keep in mind:* Make your CTA impossible to miss!* Use simple, easy-to-understand language.* Highlight the awesome benefits of following your CTA.* Make your viewers feel a sense of urgency by offering a limited-time discount.* Keep your CTA consistent throughout the video.### 6. Direct attention to a specific set of productsIf you want to create a video that will boost your sales, the key is to focus on a select few products to really make them shine. Too many options can be overwhelming and take away from the fun of shopping.Instead, let's zoom in on one or two awesome products at a time and give viewers an up-close-and-personal look. Don't forget to add some witty and clear descriptions.Keep your video short and sweet, because let's face it, attention spans are short these days. And make sure to give your video a professional touch with good lighting and sound. Your customers will love the experience and be begging for more!### 7. Optimize your video for all mobile devicesDon't miss out on potential customers by neglecting mobile optimization!Make your video mobile-friendly with a responsive design and a video player that fits any screen size. Nobody likes waiting, so optimize your video for quick loading times, especially on mobile networks.To maximize your sales, make sure your shoppable elements are easy to see and use on mobile devices. Use clear calls-to-action, large buttons, and easy navigation to the featured products in your video.By optimizing your shoppable videos for mobile, you'll reach a wider audience and increase your conversions.Instasell specializes in creating mobile-friendly shoppable videos that are optimized to provide a seamless viewing and shopping experience to your audience. Our videos feature responsive design and a video player that adjusts to fit any screen size, ensuring that your viewers can enjoy your content on any device. Additionally, we take care to optimize our videos for quick loading times, especially on mobile networks, to prevent slow load times from hindering the user experience. That means you can be confident that your shoppable videos will be both engaging and high-performing.### 8. Utilize data and analyticsLet's get analytical!If you want to create shoppable videos that really pack a punch, you need to delve into the world of data and analytics. Think of it like a secret weapon that helps you understand your audience and what's driving sales. This can range from looking at metrics such as view rates, click-through rates, conversion rates, and more.But don't stop at the basics. Get creative with the placement of your shoppable tags to see what makes your viewers engage the most. It's all about trying new things and seeing what really resonates with your audience.By consistently analyzing and optimizing your shoppable video strategies, you'll be able to make informed decisions and improve your overall performance. And let's not forget about the competition! Keeping an eye on industry trends and what others are doing differently is the ultimate way to stay ahead of the game. ### 9. Be creative and have fun with itShopping doesn't have to be a chore. Want to make your audience fall in love with your products? Get creative with your video content and come up with something unique that will make them stop in their tracks.Once you've got their attention, give them the deets on your products in a clear and concise way. No one wants to buy something they don't fully understand, right?And last but not least, let loose and have some fun with it! Add some humor or show off your personality - the more engaging your video is, the more likely it is to convert into sales. It's up to you to make your customer's shopping experience enjoyable.3 brands that nailed their shoppable videos-----------------------------------------------The best way to learn is to see how the best brands did it. These 3 brands below have figured out how to create content that shows off their products while staying true to their brand voice and message. Although the campaigns aren't active anymore, they're still amazing examples to help you get a glimpse of what made them so great.### 1. Asurion**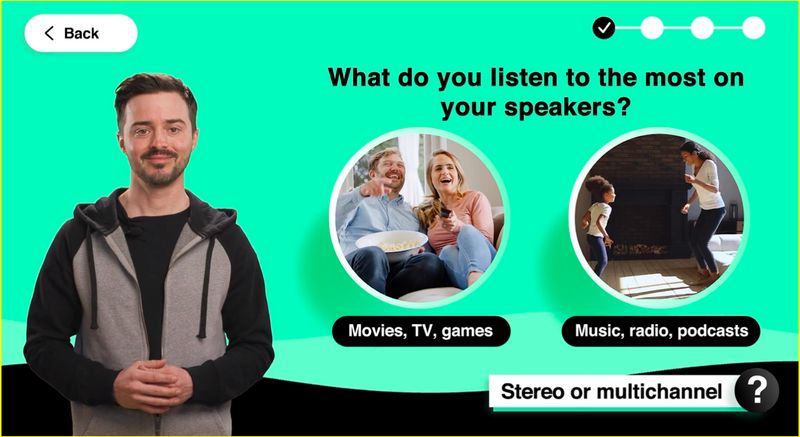 Check out this awesome shoppable video by Asurion! They've taken things to the next level by adding a quiz element that makes the whole experience super interactive and fun. By quizzing viewers on their living space and what they plan to listen to, Asurion has made it easy for people to choose the best speaker systems for their home setup without taking away from their personal preferences. * Quizzes don't have to be boring - you can get creative with animated or real-life footage in the background or even have the quiz elements interact with the video itself, just as they have done. Want to make it even more rewarding for the viewer? If it allows, you could even reward your audience for their quiz skills! So if you want to make your shoppable videos more engaging and interactive, a fun quiz is the way to go.### 2. Bloomingdale's*
Have you seen the 60-second purchasable runway show by Bloomingdale's and Cotton? It's an absolute hit! With a million unique views, this video is a shining example of shoppable videos done right. The dynamic overlays showcasing the clothing available throughout the video had users engaging twice on average and exploring additional products for over 2.5 seconds. * If you want your video to have your users falling head over heels, you've got to create an e-commerce experience that keeps them completely immersed and begging for more. * Your video should be a seamless blend of product information, brand storytelling, and exploration that leaves your viewers wanting to uncover more.### 3. Ted Baker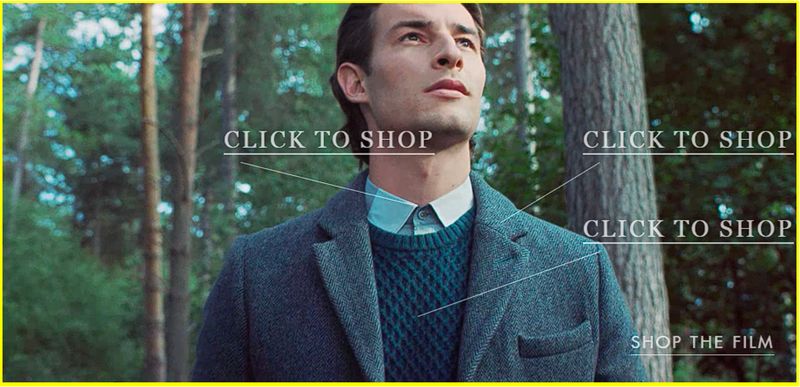 **Ted Baker knocked it out of the park with their latest campaign video! They took their classic content and gave it a holiday twist, making every item on offer a purchasable sensation. The best part? Viewers can make their purchase in a snap! This interactive video earned a whopping 98,000 views and sent over $75,000 in sales to TedBaker.com in just one week!This video is the perfect example of how shoppable videos can create a streamlined shopping experience. * With purchase-primed content, viewers are ready to take action and make a purchase in just a few clicks. * And with in-feed and in-stream interactive content, you can target in-market shoppers and guide them to your larger brand experiences in no time! Turn visitors into instant sales with smart shoppable videos with Instasell --------------------------------------------------------------------------------Ready to level up your e-commerce game? Say goodbye to boring websites and hello to the ultimate shopping experience with Instasell! Our shoppable videos and live shopping features turn your website and social media platforms into a virtual store, where customers from all around the world can instantly buy your products. No more static pages - our platform lets you make live sales, engage with your customers, and personalize their shopping experience. Whether you're new to video commerce or trying to improve on the strategies you already have, Instasell provides the platform to bring your brand to life. Get in touch with us today to make the best of your websites and social media platforms.Don't settle for ordinary - choose Instasell for an extraordinary online store.
📹 Add Video Commerce to your website 🚀🚀
• Instasell helps you power your e-commerce shopping experience with the power of Smart Video Shopping.


• Use Shoppable Videos and Live Shopping to drive 25-30% more revenue from your website.
Transform your brand with Video commerce