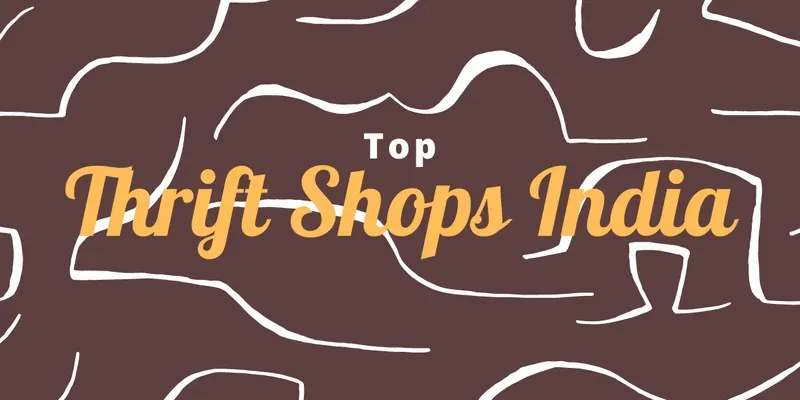 Thrift Shops on Instagram India
Abhishek Sebin · Sun Jul 17 2022 · 4 min read
Thrift Shops on Instagram India
Shopping from a thrift store seems to be the new trend in town. But what is it? 
A thrift shop, simply put, is a store that sells second-hand household and clothing items. Apart from a business perspective, it is typically done to collect money for charitable reasons. 
Although the trend is pretty new to our generation, thrifting has a long history by itself. During the late 1800s and early 1900s, thrift shops were first set up as goodwill shops; the main idea was to not let anything go to waste. 
Here's a small excerpt from the book "From Goodwill to Grunge: A History of Secondhand Styles and Alternative Economies" stating the same; "If you had a dress and it got worn out, you'd tear it up and make a pinafore for your daughter, and when that got trashed, you'd tear it up and stuff your chair with it"
As times changed, thrift shops faded away. But now, we can see these stores making a comeback with great collections of clothing and other household items as well. 
How Thrifting Grew In Popularity?
It comes as no surprise that thrifting has experienced a huge surge in popularity in a short period of time and let's not forget the role of social media platforms like Instagram that helped thousands of thrift stores taste popularity & success. 
Thrift stores present sustainable and affordable fashion to everyone. From branded clothes to other household accessories, you can find anything and everything at a reasonable price. This is the main reason why thrifting has become much more popular in recent times. 
Even though thrift stores might be a by-product of the pandemic, it certainly is capturing the imagination of individuals and helps promote sustainable living.
There are thousands of thrift shops in India and Instagram is a great place to look for them. 
Indian Instagram Thrift Shops You Should Check Out
Here are a few Indian Instagram thrift shops you should definitely check out for some of the best hand-picked clothes and accessories:
1. Carol's Shop and Tea Room
Let's start this list with a unique thrift store. Carol's Shop and Tea Room doesn't just sell clothes but also sells accessories and other collectables. 
Started by Carol Humstoe, an extensive traveller who collects exquisite items throughout her travels and sells them online. From vintage clothing to local collectibles, you can find them all here. 
2. Copper Boom
A great thrift store, Copper Boom is known for its unique handpicked selection of thrifted clothes. Their prints are among the most aesthetic ones you can find. 
Moreover, Copper Boom is into promoting a sustainable lifestyle, they also advise you not to buy clothes impulsively. Also, Copper Boom is among those thrift stores that accept online payments. 
3. Bombay Closet Cleanse 
One of the well-recognized thrift stores on Instagram India. Started by sisters Sana and Aliya, have made quite an impression by selling fashionable thrifted clothes. 
You can find great picks from top-tier brands, and find unique designs and prints as well. The best part is that a part of the earnings goes to charity. 
4. Candour Oak
Looking for great sustainable fashion for men?
Look no further, Candour Oak is an Instagram thrift store that caters to mends fashion needs. 
They don't just sell thrifted mens' clothes, they also have a great curated collection of loafers, watches, sneakers, and bags that you can choose from. They also hoard a great collection of branded T-shirts. 
5. ThriftUp!
A marketplace for thrift stores, ThriftUp! not just lets you shop for cute, vintage and streetwear, but also lets you list pieces of clothing from your own closet.
They have pieces from 50+ sellers listed on their website, so no matter what your style, you'll definitely find something or the other for yourself.
6. Thrift It Bro
A thrift store like no other, Thrift It Bro doesn't just sell thrifted clothes, but they also sell thrifted books, how amazing is that?
Fiction, non-fiction, and short stories, you can find them all here. You can check out their collection of books on their Instagram page. All their collections are reasonably priced. 
7. All Things Preloved
Started by Pritika Rao, an avid thrifter herself, is now doing her bit to promote thrifting and sustainable living. You can find a great collection of women's clothing, from printed dresses to corsets, they have it all. 
All Things Preloved also donates money to different charities and NGOs. Pritika also plans on hosting thrifting events to promote this lifestyle, so make sure you keep an eye out for those as well. 
8. Threadripper
Threadripper is all about promoting the use of up-cycled and thrifted items. They have an amazing collection of casual wear. 
Apart from selling, they also customize thrifted items, for example, they can make a great-looking bag out of thrifted clothes. You can find all their collection on their Instagram page, the prices will not burn a hole in your purse and they also accept online payments. 
9. Paradigm Thrift
A vintage and pop-culture-inspired thrift store. They house an unusually great collection of vintage and pocket-friendly. 
From sneakers to rugged-looking denim jackets, you can find the trendiest collections here. They ship globally and accept online payments. It goes without saying that, Paradigm Shift is your one-shop-stop for the best trendiest clothing items and accessories.  
📹 Add Video Commerce to your website 🚀🚀
• Instasell helps you power your e-commerce shopping experience with the power of Smart Video Shopping.


• Use Shoppable Videos and Live Shopping to drive 25-30% more revenue from your website.
Transform your brand with Video commerce