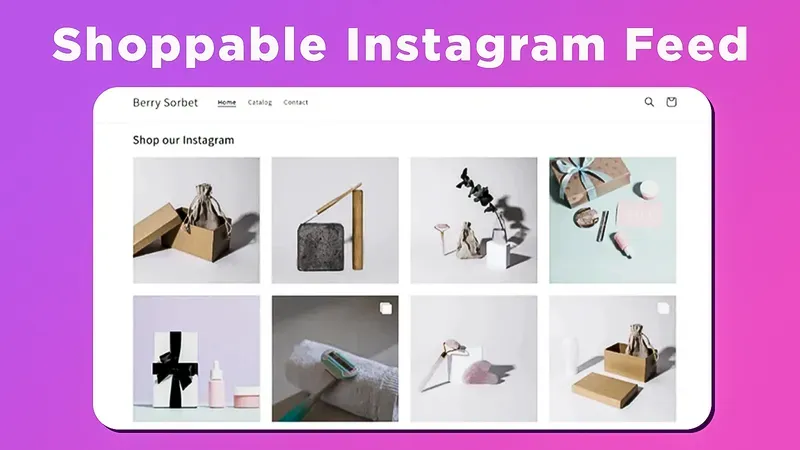 How To Connect Shopify with Instagram
Abhishek Sebin · Mon Aug 08 2022 · 6 min read
How To Connect Shopify with Instagram
If you wanted to sell your products online 5 years ago, it would've been quite the hassle. From buying a domain to getting all technical work taken care of by professionals. But as of now, all you need is an Instagram account.
With an Instagram account integrated with a few other tools, you will be able to sell products online. Shopify makes selling products online easy, they offer a lot of tools to help you market your products and sell them. 
But here's the catch, Shopify needs a third-party integration for you to actually sell products, and what better option to choose than Instagram? The most used social media platform. There are several reasons why you should use Shopify with Instagram. For starters, Instagram is the biggest social media platform with a large user base and it also helps in improving customer experience, Instagram by itself offers several tools to increase your audience and customer base. 
But before you can use Instagram and Shopify together, you must first convert your personal account on Instagram into a business account. Here's how you do it:
Go over to your profile page 
Tap on the "3 lines" menu bar which is located in the top right corner of the screen
Now tap on settings
After that, select the "Account" option
When you go to the account section, you'll see an option that reads "Switch to Professional Account", click on it and you now have a business account.
Once you've done this, you can go ahead and set up your Instagram Shop, and in the event that this feature is not available in your region, you can become a managed client to get Instagram Shopping features. 
Connecting Shopify With Instagram - Instafeed app on Shopify
Now that you have everything set up, let's take a look at how you can connect your Instagram and Shopify to boost sales. 
There are two ways through which this can be done:
Method 1 - Adding Instagram Link To Your Shopify Store
To go ahead with either method, you will first require a Shopify account as well. Shopify offers its users an application "Facebook Channels" which allows you to incorporate your products from your Instagram account. 
Head over to Shopify and log in to your account
On the left, you will see a navigation bar, scroll down and select the "Online Store" option at the bottom
Once you do, you will be shown all the themes you have in your store. Choose the theme you currently are using and then select the "Customize" option
On the left side of the screen, you will see the option "Theme Settings", click on it
You will now be shown several customization options such as typography, colors, and many more. Once done, select "Social Media"
Finally, on the left side of the screen, you will notice "Social Accounts" as an option. This is where you add your Instagram link. 
Now, head over to your Instagram Page and copy your profile URL and paste it into your Shopify sidebar. 
Once you've done this, scroll down to see the Instagram Icon, if you see it, you have successfully linked your Instagram to your Shopify store and you can now save the changes made. 
Method 2 - Use A Plugin To Display Your Instagram Feed On Your Shopify Store
You can also use plugins or Instagram Feeds apps from the Shopify Apps store to connect your Instagram and Shopify.
Using plugins is a great way to connect your Shopify store and Instagram. These Feed apps allow you to link products via Instagram hashtags. In other words, when a user uploads any post whilst using your branded hashtag, that post will be visible on your Instagram Feed store as well. 
To do this, you will first need to go to the Shopify App store and look for the best Instagram Feed apps. We will tell you about the best Instagram Feed Apps later on in the article. 
Here are some basic things you can do with Feed Apps:
It offers multiple customization offers for your Instagram page
It will help you increase your audience and customer base by linking your Instagram on your website 
You can tag multiple products on your Instagram
You can even segregate media based on hashtags and accounts. 
Connecting Instagram Accounts
Follow these steps to connect your Instagram Account:
Open the plugin/Feed App
Click on "Connect an Instagram Account"
Now give permission to the Instagram Feed app to access your profile page for information and other media that you have uploaded
Once you've successfully connected your Instagram and Shopify, you can now go about customizing your online store. 
On most of the Plugins/Instagram Feed apps, feed customization mainly refers to 4 categories:
Post Spacing - the space between each image or video
Feed Title - The feed title will help in linking the User Generated Content (UGC) to your feed whenever they use your specific branded hashtag. 
Number of Columns and Rows - refers to the number of UGC posts that are shown in rows or columns
On Post Click - This refers to when a user clicks and selects an image from your Instagram Page. 
Incorporating Your Instagram Feed Into Your Shopify Page 
Open the Shopify editor and select the "add a section" on the left side of the screen
Now select "Instagram App"
Here's an important point to remember, after you add your Instagram link, it typically does not open automatically, which is why you must save the changes. 
After you've completed all the steps above, you can display the Instagram Icon on your Shopify page and you can even use the drag-and-drop option that many Instagram Feed Apps provide. 
Top 5 Instagram Feed/Instafeed Apps
Here are some of the best Instagram Feed Apps/Plugins you should choose
1. Instafeed | Instagram feed by Instasell
Instafeed, an extremely popular plugin, makes integrating posts and their customization very easy and efficient. It provides every basic feature as well as IGTV and a shoppable feed. 
This plugin is extremely easy to use and offers a lot of other benefits as well. 
Pros
It offers slider and grid layout options
You provide features like Instagram shoppable Feed
It also shows the number of likes on every post
It doesn't impact your website performance and loading speed at all.
Cons
It does not give you the option of Instagram Stories yet
Instafeed offers free plans and paid ones as well. 
2. Instagram Feed by Pina Tropical
Among the most simple yet efficient Feed apps, you'll come across. Instagram Feed by Pina Tropical lets you integrate your Insta feed to your Shopify Page. 
The best feature here is that this plugin will let you customize the layout of the page on either your phone or computer. You can also choose how your Instagram feed is presented on several other devices as well. 
Pros
It will display the likes on every post 
Offers slider and grid layout options 
Cons
It does not have a shoppable Feed option
It also doesn't have the Instagram Stories option
It impacts the website performance and decreases conversions
Instagram Feed by Pina Tropical offers both free and paid plans. They also offer a free trial version of the paid plans. 
3. Instagram Shopping & Feed by ETS-Soft
The Instagram Shopping & Feed is by far the easiest Feed App to set up. It can help you connect your Instagram page and let's upload multiple pictures with just one click. 
It further helps in generating a shoppable feed to help your customers add more items to their cart easily. Additionally, it also has over 9 filtering options. 
Pros
It too offers sliders and grid layout options
It has several filter options 
Offers shoppable feed options
It displays the number of likes on every post as well
Cons
No option for Instagram Stories 
It has medium impact on the website performance and loading speed
Instagram Shopping & Feed offers free and paid plans, they also offer a free trial period for their paid plans. 
4. Social widget
Social widget is a unique plugin that will let you import several Instagram accounts. If you have more than one Instagram account that you use, then you can connect them all via Socialwidget, it makes it easier as everything is put in one place. 
It also offers CTA (Call-to-action buttons) options to help convert visitors into customers. Apart from this, you also have the option of importing multiple photos, videos, and other media. 
Pros
It has slider and grid layout options
Offers shoppable feed feature 
It also offers Instagram stories option 
It displays likes on each post 
It lets you add Instagram and Tik-Tok reels as well
Cons
It appears to have comparatively fewer customization options
It has high impact on your website loading speed and is a bulky app.
Socialwidget offers both free and paid versions for people to use. They also offer a free trial of their paid versions as well.
5. InstafeedEX 
A unique plugin, that helps you create a smart lightbox and helps in displaying Instagram pictures as a pop-up. 
The best part is that InstafeedEX offers real-time Instagram syncing and lets you select the pictures you want to display. This means that whatever changes that you may make on your Instagram page will reflect almost immediately. 
Pros
It has grid and slider layout options
It will also display likes on each and every post. 
It offers real-time sync with Instagram
Cons
It does not offer shoppable features
It also doesn't have the Instagram stories option
It has low impact on the website performance and loading speed
InstafeedEX offers both free and paid versions and they also offer a free trial of their paid plans as well. 
Although every plugin mentioned, as per user reviews, Instafeed seems to be among the most used and most popular Instagram Feed App, given its ease of use and multiple customization options, we aren't surprised. Although it may lack the Instagram Stories features, it still makes up for it in many other ways by offering several other options and has no impact on the website speed or performance. 
📹 Add Video Commerce to your website 🚀🚀
• Instasell helps you power your e-commerce shopping experience with the power of Smart Video Shopping.


• Use Shoppable Videos and Live Shopping to drive 25-30% more revenue from your website.
Transform your brand with Video commerce